Posted on: October 12, 2019
Stewardship Sunday Report FY18-19
Please see our FY18-19 stewardship report below. Thank you for your continued support!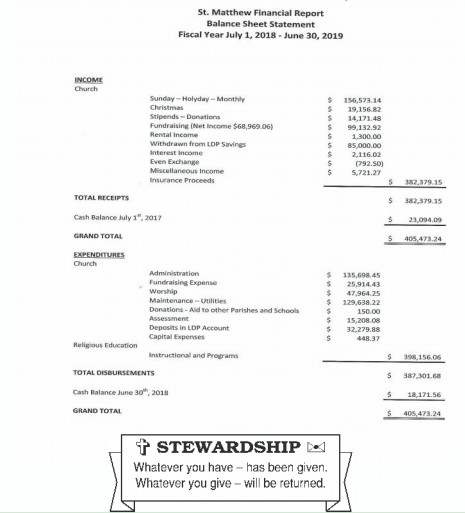 Posted on: October 12, 2019
Gold'n Harvest Raffle Kickoff!
2019 Gold'n Harvest Raffle
Your tickets are in the mail along with a letter of instruction, and you should be receiving them soon. This is a very important fundraiser for our parish; and in view of the recent loss of property and damage to our church building, participation is more important than ever as we try to "restore and secure" our St. Matthew Church.
Please contact your family, friends, and neighbors to sell tickets. Flyers will be available soon for you to take to businesses for display in their stores.
Our drawing this year is on Sunday, December 8, following the 10 a.m. Mass. There will be a catered breakfast provided by the Majestic Cafe'.
Mark your calendars!
Posted on: September 21, 2019
Congratulations Fr. Duane!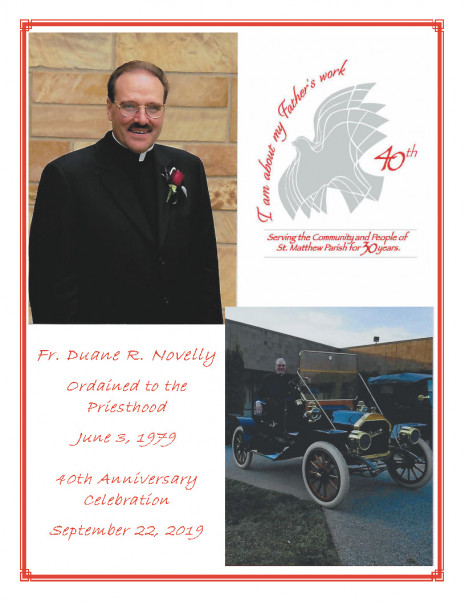 "a man wonders if he ever really chose this life, if he even knew enough at the time of his entrance into the seminary, or of his ordination to be able freely to choose this life. The fundamental truth is not that we have well or poorly, enlightened or unenlightened, chose Christ in this life. The fundamental truth is that He has chose us."
Archbishop Roger Mahoney Archbishop of Los Angeles
As I look back on 40 years of ordination, the words of Archbishop Mahoney ring true. I wonder how it all came to be?
Priesthood has certainly offered me opportunities great and small. To stand before hundreds of people and speak words of truth and mission is a responsibility and a privilege. To be invited into people's lives at intimate moments like birth and death, to hold bread and wine that becomes the Body and Blood of Christ, to say your sins are forgiven, these are not just life moments, these are encounters with Christ that priesthood offers in a unique way.
A priest looks into his soul and is humbled. He is neither a businessman nor a man with a craft. He is called to be everything when he is needed and often ignored when not. He is called to be an artist releasing in people's spirits the beauty of the Most High Priest. He is asked to give good homilies yet he is not an entertainer.
Who could have imagined, as Archbishop Mahoney said, what would be asked of him the day he entered the seminary or the day of his ordination. Who could ever know fully the direction in which God would take him? No one! For that reason, priesthood is a mystery tied to the mystery of Christ the High Priest.
I did not fully realize what my life would be 40 years ago, but I don't regret a moment. I know now that I did not choose this, it truly was Christ who chose me. Today, I give thanks to God for that calling. So many times, I have felt in the midst of ministry to people, that I have been ministered to as well. That is when I know Christ is by my side with me in the Father's work.
For the past 40 years as a priest and the 30 years that I have been pastor at St. Matthew's, I want to thank you for your support and love, and now I ask you to pray for me as I give thanks to God for having chosen me.
With gratitude, Father Duane
Fr. Duane's Journey
Posted on: September 14, 2019
Rest in Peace - Anna Rita Moroni & Nathan Harrington
Nathan Harrington
Son of Peter & Janet Harrington
&
Anna Rita Moroni
Friend and Longtime Parishioner
May they find peace and rejoice in the company of Jesus, Mary our Mother, and all the Saints.
Posted on: August 17, 2019
Welcome New Bookkeeper!
As Father Duane mentioned, we have a new bookkeeper, Gloria Bermudez, who follows on the foot- steps of Denise Balogh. Denise needed to resign due to recent health issues. She is doing fine and recuperating at home.
Gloria comes to us from Melvindale and volunteers at the Melvindale Crisis Pregnancy Center and the All Saints Soup Kitchen. She has a great deal of experience as a bookkeeper and is easily adjusting to life as our parish bookkeeper. We wish her well in her new position and hope she enjoys her work here
.
Posted on: July 15, 2019
2018-2019 Stewardship & CSA Report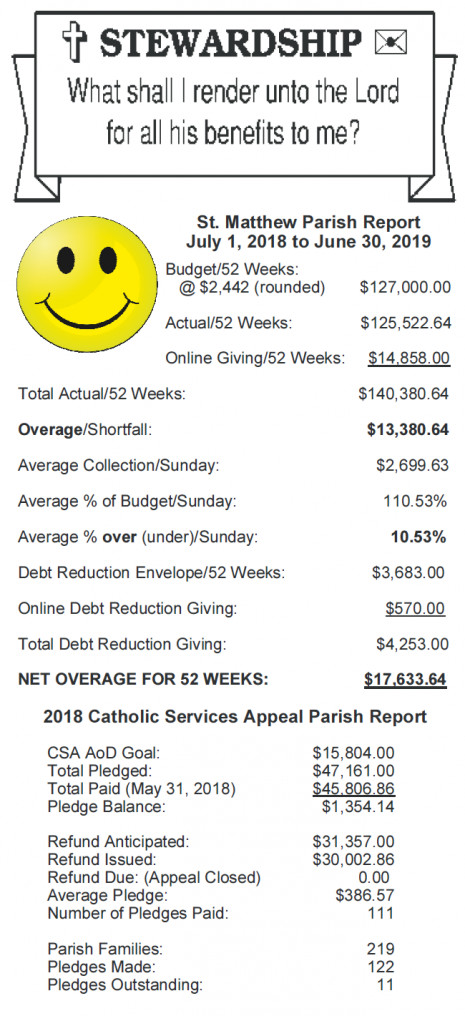 Posted on: June 15, 2019
Rest in Peace: George Zainea & Brent Jacob
May they rest in the peace of Christ
George Zainea
Brother of Joe Zainea​
Brent Jacob
Husband of Lynn Jacob
May the Lord bring comfort and healing to the families and friends of these departed loved ones.
Posted on: June 8, 2019
Sean O'Connell Eagle Scout Project
"Hello, St. Matthew's Community."
With these words, Sean O'Connell, a Boy Scout from Grosse Pointe South High School, Troop 96, began his Eagle Scout Project here at St. Matthew Parish. Using our parish as his point of organization and distribution, Sean conceived, organized, and executed the collection of school supplies from the community reaching out to organizations and parishes in both Grosse Pointe and Detroit to provide over 130 backpacks filled with essentials for school work for those youngsters who otherwise would go without.
Sean succeeded in obtaining his Eagle Scout award due to his efficiency, kindness, and understanding toward those he served on this project. Subsequently, he asked Father Duane to introduce him at the presentation of his Eagle Scout award on Monday, June 3rd.
Father indicated to those attending the award ceremony how Sean exemplified the fulfillment of the Scout law of friendliness, helpfulness, and kindness. He added that through Sean's activities in the Scouts since first grade not only brought Sean merit badges to his sash but also merit to his life. As a successful student and excelling in school athletics, Sean will fly high in all he undertakes in the future. Father prayed that Sean will always receive his strength from God and courage to live out the Scout oath and law which reflects God's command to us all. As our hymn sings, "He'll raise us up on eagle's wings," so may Sean be born aloft by the merits earned so as to fly high on Eagles' wings. Sean plans his future success at the Air Force Academy!
Posted on: June 1, 2019
Anniversary of Fr. Duane's Ordination
"I Am About My Father's Work"
June 3, 1979 to June 3, 2019

Congratulations Father Duane as you celebrate your 40th year of priestly ordination. Thank you for being our pastor, shepherding us and leading us to Christ through Liturgies and the Sacraments for 30 years!
Thank you for being a loving Father to your parishioners and to our Eastside community. May God bless you in mind, body, and spirit this day, this year, and for many more years to come.
Lord God, most holy,
we approach you in gratitude
for your holy ordained priesthood.
You have called Father Duane Novelly to be set
apart and to shepherd your people,
as you shepherd your entire church.
We pray for him in his daily work.
Grant him an increase in spiritual gifts and grace,
so he may be prepared for the tasks at hand.
Protect him from evil and any bodily harm.
It is through the sacraments he confers
that we encounter the divine
in a real and profound way.
May we never lose sight of his ministry and
never fail to cherish the gift of his life,
which he has freely given to you
and your holy church.
We ask this in the name of Jesus, your Son.
Amen.
Mass Schedule
| | |
| --- | --- |
| Mon | No Mass |
| Tue | 9:00am |
| Wed | 9:00am |
| Thu | No Mass |
| Fri | 9:00am |
| Sat | 4:30pm |
| Sun | 10:00am |
Reconciliation by Appointment
All Services