Posted on: October 26, 2020
Quarterly Stewardship Report
St. Matthew Parish Report
July 1, 2020 to September 30, 2020
Budget/13 Weeks: @ $2,442 (rounded) $31,750.03
Actual/13 Weeks: $24,120.17
Online Giving/13 Weeks: $10,585.00
Total Actual/13 Weeks: $34,705.17
Overage/Shortfall: $2,955.14
Average Collection/Sunday: $2,669.63
Average % of Budget/Sunday: 109.31%
Average % over (under)/Sunday: 9.3%
Debt Reduction Envelope/13 Weeks: $788.00
Online Debt Reduction Giving: $225.00
Total Debt Reduction Giving: $1,031.00
NET OVERAGE FOR 13 WEEKS: $3,986.14
Posted on: October 3, 2020
Congratulations Confirmandi!
Congratulations
to our Confirmandi
from St. Matthew Parish!
HANNAH PRZYBYLSKI
Parents: Mark Przybylski and Jennifer Khalifah

EMILY PRZYBYLSKI
Parents: Mark Przybylski and Jennifer Khalifah

JULIA ZUERBLIS
Parents: William Zuerblis and Theresa Zuerblis
on having received the Sacrament of
Confirmation on
Tuesday, September 19, 2020
By the Most Rev. Robert Fisher
SLOANE O'NEILL
Parents: Martin and Angela O'Neill
on having received the Sacrament of
Confirmation on
Tuesday, September 29, 2020
By the Most Rev. Robert Fisher
Holy Spirit, fan into flame the gifts
they received in their Baptism and Confirmation.
They want to receive the fire of Your love
as Your disciples did at Pentecost.
Come with wonder and awe,
with wisdom, understanding, and counsel,
with courage and faith in You.
Holy Spirit, may their actions witness
to Your presence in their lives.
Help them to see the ways their strengths
can serve others in their weakness.
In all their interactions, let them radiate
love, joy, peace, patience, kindness,
generosity, faithfulness, gentleness, and self-control.
Breathe new life into the world through them. Amen.
Posted on: September 19, 2020
Welcome New Parishioner!
Welcome!
To New Parishioner
Mary Lusch of Clinton Township
Mother of Patrick Lusch
and Proud Grandma of
Kylan, Kinsleigh, and Kamden
St. Matthew's Catholic Community welcomes you,
Mary, and we hope that you find your
spiritual home here with us.
Posted on: August 15, 2020
Congratulations Graduates!
Congratulations to Stephanie Godoshian on receiving her Bachelor's Degree in Chemical Engineering from Purdue University!
Stephanie will be continuing her studies this fall working toward a Master of Engineering Management Degree. Stephanie is the daughter of Charlie Godoshian and Patricia Camazzola-Godoshian.
God bless you, Stephanie, and good luck in all your future endeavors!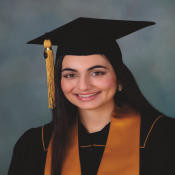 ---
Congratulations to Devin Smith on receiving his Bachelor of Arts Degree from Madonna University!
Devin is the nephew of Dean Johnson.
God bless you, Devin, and good luck in all your future endeavors!
---
Congratulations to Charles Ramsdell on his graduation from Grosse Pointe North High School!
Charlie is the son of Michelle Ramsdell and Sunday's Office Assistant at St. Matthew Parish. Charlie will be continuing his formal education at the University of Michigan, Ann Arbor.
God bless you, Charlie, and good luck in all your future endeavors!
---
Eternal God, bless these graduates who have completed
their course of study
and now begin a new part of their lives.
Let them not be troubled
about the past or anxious about the future,
but let them be concerned
about the moment they must now live.
Strengthen their faith and ease their fears
that they may courageously follow your Spirit
and live fully the life you give them.
Amen.
Posted on: July 13, 2020
June 2019 - July 2020 Offertory Report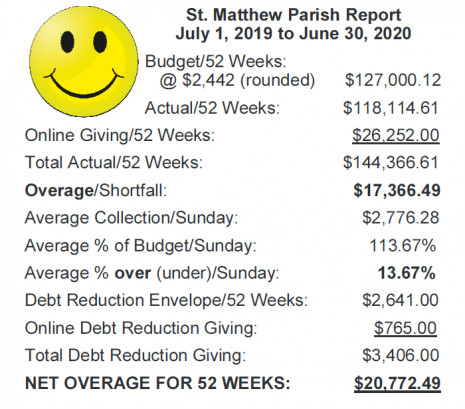 Posted on: June 14, 2020
Congratulations Sean O'Connell
It is with great pride that we, as St. Matthew's faith community, congratulate
Sean O'Connell
on his acceptance into the United States Air Force Academy.
Today, at the 10 a.m. Mass, Father Duane bestowed a special blessing on Sean in the presence of his family and friends. We wish him success in his future as an Air Force cadet.
Sean, may you fly high and sure in your new career!
Posted on: June 4, 2020
Archbishop Letter to Black Community
On May 29, Archbishop Vigneron wrote to the Black Catholic community to share his prayers for them and assure them of his solidarity
in the wake of the death of George Floyd in Minneapolis, MN.
Dear Brothers and Sisters in Christ,
Over the past two months, I have witnessed with sorrow the effect the current pandemic has had particularly on the black community here in the Archdiocese of Detroit. It has been painful to hear daily of how the virus is impacting pastors, parish staff, and friends and family of the faithful here, and of the ensuing fear and anxiety that has followed in its wake since. And now, compounding this suffering is - as one of the faithful put it to me - that "deep, familiar, and soul-crushing ache" which the death of George Floyd has reawakened. I know that while physically distant, the events in Minneapolis have cut deep into existing wounds held close to your own hearts.
With this in mind, I wanted to offer a brief but sincere reassurance and expression of solidarity in our Catholic community. St. Paul preached: God has put this body together, so that "there may be no division in the body, but that the parts may have the same concern for one another. If one part suffers, all the parts suffer with it; if one part is honored, all the parts share its joy" (1 Cor. 12:25-26). Admittedly, this solidarity has not always been perfect - as I shared two summers ago in my pastoral note on racism, we are living the wounds of many years of injustice in our local communities. But like all things in the Christian life, when we turn to Him, all can be made perfect in Christ.
So, I want to acknowledge your suffering, to bring it into the light, so that we all together as a Catholic Church community can bring these wounds we share in Christ, to Christ for healing. I hope, too, that you will join me in praying for two additional petitions at this time. First and foremost is for a blessed repose for George Floyd, and for comfort for his grieving family and friends. Second is for peace, both in our
communities and in our own hearts.
Entrusting you to the intercession of Blessed Solanus Casey, I am
Sincerely yours in Christ,
+ The Most Reverend Allen H. Vigneron Archbishop of Detroit
Posted on: May 30, 2020
Rice Bowl Collection
The Rice Bowls that you have faithfully donated to during this past Lent will be collected on the weekend of June 13 and 14, Corpus Christi Sunday.
Please do not return your contribution in the Rice Bowl box!
Place your donation in an envelope marked Rice Bowl and your name with cash (no coin) or check made out to St. Matthew Parish. This is important for the safety of those responsible for reconciling this collection. There will be a separate location in church for you to drop off your Rice Bowl donation. Thanks for your generosity!
Posted on: February 8, 2020
Welcome New Parishioners!
Welcome!
Bill & Bonnie Leone
of Grosse Pointe Woods

&

Mike & Jane Ellis
of Grosse Pointe Farms

We hope you find your spiritual home here!
Mass Schedule
| | |
| --- | --- |
| Mon | No Mass |
| Tue | 9:00am |
| Wed | 9:00am |
| Thu | No Mass |
| Fri | 9:00am |
| Sat | 4:30pm |
| Sun | 10:00am |
All Services