Posted on: October 22, 2022
Financial Report: Fiscal Year July 1, 2021-June 30, 2022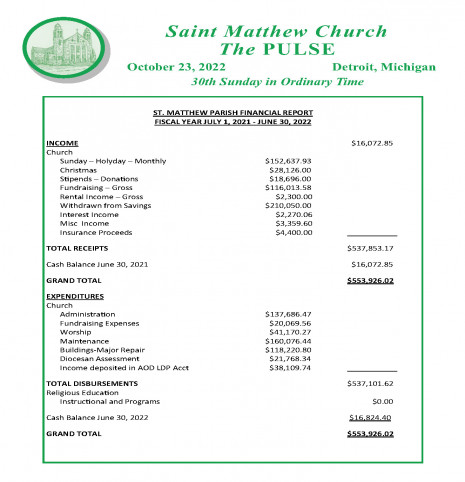 Posted on: October 8, 2022
Finance Report July 1, 2022 to September 30, 2022
Budget/13 Weeks: @ $2,442 (rounded) $31,750.03
Actual/13 Weeks: $23,840.44
Online Giving/13 Weeks: $11,160.00
Total Actual/13 Weeks: $35,000.44
Overage/Shortfall: $3,250.41
Average Collection/Sunday: $2,692.34
Average % of Budget/Sunday: 110.24%
Average % over (under)/Sunday: 10.24%
Debt Reduction Envelope/13 Weeks: $743.00
Online Debt Reduction Giving: $490.00
Total Debt Reduction Giving: $1,233.00
NET OVERAGE FOR 13 WEEKS: $4,483.41
Posted on: September 24, 2022
Congratulations Jazmyne Reese!
Congratulations!
Jazmyne Reese
as She
Graduates with Honors from South Lake High School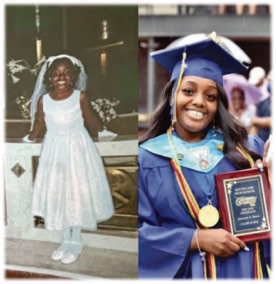 Jazmyne is the granddaughter of Josephine Beamer. She graduated #5 in her class with a 4.0 GPA, was on the Honor Roll for four years, and served as President of the National Honors Society. She was also a council member of Wayne State University's Statewide Program and will be attending Hampton University this fall to major in Nursing.
God bless you, Jazmyne, and we wish you the best in your future endeavors!
Posted on: July 9, 2022
2022-23 CSA Report as of July 6, 2022
CSA AoD Goal: $18,511.00
Total Pledged: $24,615.00
Total Paid (July 6, 2022) $14,974.06
Pledge Balance: $9,640.94

Refund Anticipated: $6,104.00
Refund Issued: $0.00
Refund Due $0.00
Average Pledge: $502.35

Pledges Made: 49
Pledges Fully Paid: 34
Pledges Outstanding: 15
Parish Families: 210
Posted on: July 9, 2022
Finance Report July 1, 2021 to June 30, 2022
Budget/52 Weeks: @ $2,442 (rounded) $127,000.12
Actual/52 Weeks: $94,206.93
Online Giving/52 Weeks: $53,952.00
Total Actual/52 Weeks: $148,158.93
Overage/Shortfall: $21,158.81
Average Collection/Sunday: $2,849.21
Average % of Budget/Sunday: 116.66%
Average % over (under)/Sunday: 16.66%
Debt Reduction Envelope/52 Weeks: $3,434.00
Online Debt Reduction Giving: $1,005.00
Total Debt Reduction Giving: $4,439.00
NET OVERAGE FOR 52 WEEKS: $25,597.81
Posted on: July 2, 2022
Catholic Charities of SE Michigan Press Release: Affordable Housing Will Transform a Closed School in Detroit
Catholic Charities, Ascension Michigan and
St. Matthew Parish join to improve lives
A former Catholic school on the city's east side, vacant for more than a decade, will get new life as an affordable housing complex, thanks to a unique collaboration among church, state, and a host of allies.
The Residences at St. Matthew is a $17-million, two-year project to repurpose the former St. Matthew School and its activity center into a 46-unit housing complex. It is being led by a collaboration between
Catholic Charities of Southeast Michigan (CCSEM), St. Matthew Parish, and Ascension Michigan. The affordable housing complex will serve
individuals facing housing instability.
The project received a boost on June 15, 2022, with the award of over $1 million in low-income housing tax credits from the Michigan State Housing Development Authority. This will result in over $10 million in equity financing for the project.
"Being able to provide affordable housing not only helps us align with our national mission, more importantly it helps to address a significant need in the MorningSide community," explained Paul Propson, executive director of CCSEM. "We are proud to lead this effort and to have partners who will help provide other means of support."
The announcement comes on the heels of a University of Michigan study detailing that affordable housing continues to be a challenge for many Detroiters. Before the pandemic, almost half of renters and nearly one in five homeowners spent more than 30 percent of their salary on housing, according to MSHDA.
Beyond housing, the school's repurposing will have additional benefits for the east side. Ascension Michigan will provide onsite health care. The former gym will be converted into a community center.
"It's critical that we have on-site access to care because we know there is a strong correlation between housing instability, health and the social determinants of health," says Dr. Stacy Garrett-Ray, Ascension senior vice president and chief community impact officer. "This model is all about providing housing stability as well as access to quality care so that we can create healthier outcomes."
St. Matthew Parish has maintained the building since closing the school more than 10 years ago. The church is proud to find a new way to revitalize the site, explained Father Duane Novelly. "The parishioners of St. Matthew are delighted to partner with CCSEM/Ascension, having our former school buildings repurposed for affordable healthy housing," said Father Novelly.
"The long history we have on the east side of Detroit will continue in a renewed fashion as we develop our ministry, helping to meet the needs of those seeking affordable housing in order to bring a greater dignity to their lives."
CCSEM has done community outreach and fundraising over the last three years to turn the housing vision into a reality. In addition to the MSHDA tax credits, the project has received $3 million in HOME funds from the City of Detroit as well as funding support from private grants.
"The MorningSide community is excited to welcome these new residences, which will add to the wide range of quality affordable
housing in our diverse neighborhood," said Eric Dueweke, president of the MorningSide Community Organization. Other partners on the development include Ethos Development Partners and Cinnaire Solutions, who will provide project management, logistics, and technical support. Construction is to be completed within the next 18 months. For more information, go to https://ccsem.org/residences/
Posted on: June 25, 2022
Good Luck, Clare Ramsdell!
We say good-bye this weekend to our Sunday office receptionist and money counter, Clare Ramsdell. Clare graduated from Grosse Pointe North High School and will be attending the University of Michigan this fall pursuing studies in Political Science on a pre-law track. We wish Clare well and will miss her very much.
Good luck, Clare, and God bless you in all your future endeavors!
Posted on: June 18, 2022
Did You Know? Marella Piazza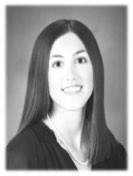 Did You Know? that our own parishioner, Marella Piazza, has been named Pointer of Interest by the Grosse Pointe News.
Marella, who is currently attending Hope College, has sets her sights on a career as an orthodontist. But that is not all, Marella has been sharing her love of singing not only here at St. Matthew Church for our 10 a.m. Sunday Mass but also at other venues such as performances at the Ford House, the Grosse Pointe Yacht Club where they plan to host dental specialists, and the Ralph F. Sommer Endodontic Symposium chaired by her current dentist, Dr. George Goodis.
Marella was a member of the award-winning Grosse Pointe South Show Choir while attending high school. During that time, she took professional vocal lessons driven by her love of music.
But her strong interest in science is leading her to consider a career in dentistry. Home for the summer, Marella works for a local orthodontist learning the basics of her future career, spends time with her family and friends, and her beloved dog, Stella, as she continues to sing in the St. Matthew Choir.
Good work, Marella, we are your biggest cheerleaders!
Posted on: June 4, 2022
Organ Dedication Concert Financial Report
2022 ORGAN DEDICATION CONCERTFINANCIAL REPORT
Income
Commemorative Booklet
Individual Sponsorships: $44,130.00
Business Ad Sponsorships: $4,850.00
Free-will Offering: $2,506.00
Beverage Tips: $75.19
Total Income: $51,741.19
Expenses
Concert Expenses (projector screen, booklet printing) $1,321.25
Hospitality Expenses: $658.12
Total Expenses: $1,979.37
Profit
Total Profit: $49,761.82
Much gratitude goes to those who supported our Organ Dedication Concert including our two major donors, 19 business ads, 32 online sponsors, and 47 individual sponsors.

No less is our appreciation to the three organists who gave of their time and talent to contribute to the success of the event. To Rob Abbott, Dr. Ron Prowse, and Joe Balistreri, God has gifted you with a very beautiful talent, and you have used it well. May God continue to bless you.
Again, we thank the committee who organized and planned the afternoon. Of course, to Patrick Lusch, we owe a debt of gratitude for his attention to detail, his expertise in technology, and his ongoing love of St. Matthew Parish.
To Joe Balistreri, who developed and coordinated the performance program and organists, as well as keeping in touch with the organ restorers to make sure that the "King" was ready on that day.

God bless all of you for all that you do for St. Matthew Parish.
Mass Schedule
| | |
| --- | --- |
| Mon | No Mass |
| Tue | 9:00am |
| Wed | 9:00am |
| Thu | No Mass |
| Fri | 9:00am |
| Sat | 4:30pm |
| Sun | 10:00am |
All Services