Posted on: May 8, 2021
Chair Sale and CSA 2021 Update
I announced last week the sale of our extra folding chairs from the auditorium. For over 40 years, we have never used them; and I was so glad for the effort of Patricia Camazzola-Godoshian for pursuing a sale online.
We sold in total 358 chairs. The first 200 sold two years ago to a movie production company; and last week, we sold 158 to a banquet venue outside of Columbus, Ohio. The chairs will be used for weddings and banquets. Such a good use for them to live on.
The last 158 chairs were sold for $5 a piece; and, although that may seem cheap, I think it was a good price given the fact that it took us three years in an attempt to sell them.
The biggest problem in moving was bringing them up from the auditorium. But thanks to 11 men from the parish, the work was made easy. I want to thank them (please see the list below) for all the good work and good spirit they had. In fact, the man who picked up the chairs said he was so pleased to meet us. We were such a hospitable friendly group. I personally was so delighted!
Again, thanks guys!
On another matter, I want to indicate to the parish our CSA target for this year. The "official" kick-off will be May 15 and 16 with an in-pew solicitation from those parishioners who did not receive an AoD pledge card through the mail. One of the reasons we are conducting the in-pew solicitation is so that we can increase participation. We have always been successful in meeting our AoD target, but the level of participation has usually remained the same or in some years has fallen. We cannot continue on that path, so we would appreciate an increase in participation.
Even if you can only give a little, if you have not participated before or not in a few years, please join in this year as the funds we raise are critical to our overall effort to be a Beacon of Light and Sign of Hope—proclaiming the Gospel message.
Having said this, I want to share with you our AoD target, which is $17,822. However, in the last three years, we have set an internal target for ourselves that helps to offset our budget deficit and take care of long overdue maintenance. So, this year, we set an internal target of $36,000. This is lower than the last two years. In effect, it doubles what the AoD is asking for. We might say that we are seeking $1 for the AoD and $1 for St. Matthew Parish. This additional $18,000 will be an absolute gift to our overall budget and help us to meet our expenses. Your help and contribution are appreciated.
I also want to thank you for your generosity and faithfulness to last year's CSA pledge drive. You saw in the Pulse two weeks ago the CSA Report. We pledged over $45,000 and to date have received $41,833. With a $14,358 AoD target, we had $27,475.95 returned to us.
God bless all of you, Father Duane
Patricia Camazzola-Godoshian, Coordinator
Don Veryser
Dan Veryser and Friend, John
Bill Zuerblis
Jerry Mielke
Dan McBride
Dennis Hermann
Ed Comiskey
Bill Ridella
Bob Ternes
Father Duane Novelly
Posted on: April 10, 2021
Alleluia! He Is Risen!
Alleluia! He is risen! These words of Easter morning and the Easter season ring true for us. As we slowly emerge from the pandemic, when last year, I celebrated Easter Sunday Mass alone; this year, we had 136 attendees on Sunday and 46 at the Vigil. We could still social distance and all felt comfortable in coming back. It was so good to see so many familiar faces return. It is now time to come back to church.
I would ask you still to consider the Saturday, 4:30 p.m. Mass, as there is usually more room than on Sunday. But between Saturday and Sunday, we should be able to accommodate everyone.
I continue to pray for an end to this pandemic. But it will only happen when everyone gets their vaccinations. So now I pray for those who refuse or are confused about the shots. All legitimate authorities, science, public health, churches, etc. are encouraging full participation. It is an act of charity towards your fellow parishioners, the community, and even yourself. The disease is terrible, and you do not want to contract it.
To young people, I say be smart and avoid superspreader occasions and events. You certainly can fast from some entertainment a little longer for the sake of your friends, your parents, or your grandparents to say nothing about hospitals that are overwhelmed as the virus and its variants spike.
At St. Matthew, we will still follow all recommended and mandated protocols; i.e., masks, hand sanitizing, and social distancing, until the pandemic is well behind us. Keep praying and take your courage in the Risen Lord.
I also want to comment on the beautiful and prayerful liturgies we experienced during Holy Week, from Palm Sunday through the Triduum/Easter Sunday, the spirit among the people could not have been better. Maybe it was because we were anxious to return to the Sacred Paschal Festival, or maybe it just felt familiar and comfortable. What ever the reason, know it was a good experience for all, including me. It was so good to have you back.
It felt like our community of St. Matthew had risen. Indeed it had, in the faith of Jesus Christ, the Lord who has risen from the dead.
Happy Easter!
Father Duane
Posted on: March 14, 2021
Previous Week Pulse Issue
You probably noticed how different The Pulse looked last week. No, we are not changing our style or format, but we had no one to edit or put the paper together. Marilyn Lynn, our parish secretary, was hospitalized
for a couple of days due to a back issue. It was severe, and she could not come to work. So I, along with the publisher, LPi, cobbled something together. The Intentions for the Masses will be printed in this week's paper, as well as an update of other critical matters. It is amazing how the day-to-day workings of an organization depend on the gifts and talents of another. Marilyn had the back problem, but we all were limping.
From answering phones, dealing with the computer, organizing fund raisers, setting up for weekend Masses, managing the front office, etc., Marilyn has truly done a magnificent job. If you see her, say a word of thanks!
Now that the pandemic is coming more under control in our State, with lower hospitalizations, more vaccines available, and more venues opening up (still with precautions), Archbishop Vigneron is lifting the dispensation from Sunday Mass starting this weekend, which marks a year since the shut-down began. Lifting the dispensation means we are no longer excused from missing Mass on Sunday. It is our obligation to be taken seriously. However, I don't suspect we will be packed to overflowing, but I do hope more people will begin returning to church, especially since we are approaching the most holy days of the liturgical year—Holy Week and the Easter Season.
I encourage you to invite people to return to church. If you or anyone goes to Costco, restaurants, shopping malls, albeit with masks and distancing, there really is no reason why you can't come to church. All safety protocols are still in place, and we seem to be very safe here.
It was so disappointing last year when I celebrated Easter Mass by myself. I know the Eucharist is central to the celebration, but the people are the heart! You give the Liturgy life in your response, your song, your prayer. The pandemic is not over yet, but we are getting through it. Your attendance at Mass is yet another way to show we are in this together, and we can do it! Please get the word out to as many as you can. We at St. Matthew Parish are open with all safety protocols and looking forward to seeing you again.
I also want to encourage you to do all that you can to receive your vaccine when you are eligible. I just received my second shot this past week. The Bishops along with all Church leaders are indicating that it is an act of charity to receive it as it brings protection not only to you but to others. "Herd immunity" is what our society strives for, and we need to cooperate for the good of all. So don't shy from it!
Get your "Fauci Ouchie"!
God bless you all of you, Father Duane
Posted on: February 14, 2021
School Building Announcement
I was very pleased to be able to make the announcement regarding our school buildings last weekend. Due to the pandemic, I know that many parishioners did not hear the announcement because they are not yet back to church. So, I am publishing the full announcement in The Pulse this week because many parishioners do access the parish paper online. I encourage everyone to read it anew even if you have heard it at Mass.
Sometimes, a second hearing brings out additional information and understanding.
Remember this vision is in a developmental stage and nothing is final at this time. So, please continue to pray for a successful development. I feel confident that this will be good for our parish, our neighborhood, and for the people who are served by CCSEM.
We also heard from the Archbishop regarding the general dispensation from the obligation to attend Mass on Sundays and Holy Days. In fact, his complete statement was sent on social media to all Catholics who are connected to it. But, in brief, the Archbishop indicated that the general dispensation will be extended only for one month, until March 13th. With its expiration, we encourage parishioners to return to the celebration of the Eucharist, an essential part of our faith and life. For God comes to us in Christ Jesus not virtually but in flesh and blood, the Body and Blood of Christ received in Holy Communion.
Fully aware of extenuating circumstances, a particular dispensation will be granted for those who are ill or anyone caring for one who is at risk of serious complications from COVID-19, as well as those who may have significant anxiety or fear of getting sick from being in a public setting. The judgment to return should be based on your need for communion with the Lord; and, if you are engaging in other activities like eating out at restaurants, traveling, partaking in non-essential shopping, widening one's circle of contacts, or other non-essential activities, it is advised that you return to an essential part of your spiritual life, the Holy Eucharist.
Of course, we will still practice all standard protocols, i.e., masks, hand sanitizing, social distancing, and complying with a recommended 50% capacity of our worship space. However, with distance protocols already in place, we can comfortably accommodate just over 100 people. To date, during the pandemic, we've only had 40 to 60 people attend. We can certainly accommodate more, especially as we approach the Lent and Easter Seasons.
I hope to see many more return to our Sunday celebrations as we anticipate the celebration of our Lord's Resurrection which we were not able to do last year.
Having said that, our preparation for Easter begins on Ash Wednesday this coming week. With proper protocols in place, we will have the distribution of ashes with a global or universal directive to reform our lives and follow the Gospel with the placement of ashes on your forehead with the minister being gloved. Ashes being an inert material, the health experts indicated that the risk of any transmission is negligible. Again, distribution of ashes will be at the 9 a.m. and 7 p.m. Masses.
Just a reminder that Rice Bowls will be available on the First Sunday of Lent for your use. Their return will be on Palm Sunday. Let us keep each other in prayer. As more people are vaccinated and the number of infections start to trend down throughout the country, we pray the Lord will strengthen us to move through these difficult times, so we may fully return to being church to and for one another. Please pray for me as well.
God bless you, Father Duane!
Important Announcement
re: Catholic Charities of SE Michigan and St. Matthew

For the past 13 years, we have prayed in our General Intercessions at Mass, "For the appropriate transition of our school buildings as we seek to further the Gospel message as a parish and as a community resource." Persistence in prayer does bear fruit. I want to share with you some exciting developments.
CCSEM along with the national organization, CCUSA, a leading organization in addressing the needs of the poor, along with Ascension Healthcare has approached us, St. Matthew Parish, with a vision for affordable housing in the city of Detroit. A concept that is beginning to take root in five other major US cities. The vision is to re-purpose older school buildings to meet the needs of the marginalized with affordable healthy housing.
To that end, CCSEM approached us to share their vision. Needless to say, we listened, we were open, excited, and cooperative in listening to them. Upon recommendation of the Finance Council, the Parish Council prayerfully deliberated the matter and found it to be appropriate. In fact, the idea seemed to be an excellent opportunity for a new charism in our parish. The Parish Council approved to move forward with discussions
in an exploratory fashion to determine feasibility.
Again, this is a vision for the future and many pieces need to be put in place particularly by CCSEM for this to be realized. However, the parish leadership both financial and lay see this as an exciting possibility and opportunity to partner with a solid organization who can bring about a sustainable usage of our buildings. "An appropriate transition" as we have been praying, not only to use our buildings well, but to make them compatible with our campus and mission and be, also as we have been praying, "a community resource."
I bring this to your attention now after consulting with our Finance Chair, Bill Zuerblis, and our Parish Council President, John Dunstone, and members of the Council along with the AoD Properties Office because the vision has moved to examine zoning of the property and notices have been publicly placed on our buildings for a zoning hearing. So, if you hear of rumors, they are not rumors; but the very beginning, one might say, of the seeds of having our prayers answered.
Further announcements will be forthcoming as developments unfold. Thank you for your attention to this very important matter and continue to pray for our success that we may continue as our mission statement indicates: "to be a beacon of light and a sign of hope."
Posted on: December 13, 2020
2020 Gold'n Harvest Wrapup
WOW! How can we ever say thanks but to say "Thanks be to God!" I worried so much this year that we would not have a successful raffle. But the "Gold'n Harvest" was golden indeed. Despite the pandemic and no parish breakfast, you, the parishioners, still stepped up to the plate (so to speak) and did a fantastic job! In fact, it was one of three best Gold'n Harvest Raffles to support our budget.
I want to thank everyone who extended themselves to sell tickets, I know it was not easy, to those that bought tickets, and those who supported us by hanging posters, letting people know of it, and keeping our success in your prayers. When I was sure we would fall short, due to a difficult year, we were very successful.
Also, I was so delighted for all the winners. All have a connection to the parish as parishioners, or in my case, the first place winner, is a long-time friend of mine and a yearly supporter of our Jazz Nite and of our Raffle since the beginning. Len has always bought numerous tickets as do all the people I send letters to. None of them have ever won. But this year, one of my people did, and I too felt like a winner. I want to thank all of my people for their kind and generous support. This year was a personal best, I sold $7,220 worth of tickets and donations toward the fundraising effort. Again, thank you and thanks be to God!
On another matter, this past Wednesday the Archdiocese of Detroit announced the make-up of the Family of Parishes. As of this writing, which goes to press before the official announcement, we most likely will be a part of the "Family" of St. Ambrose, St. Clare, and St. Matthew (If anything changes, I'll let you know.). I feel good about this relationship because we have always had a good connection with these parishes. We cooperate already in many ways. From partnering in RCIA to shared use of our gym, to working together in St. Vincent de Paul. This new structure will not be easy for the entire diocese, but it makes it so much easier when the partners you have are of similar backgrounds. Our history goes back to the days of the Detroit/Grosse Pointe Vicariate of which I was Vicar for nine years, and I am confident that we can work together.
As information continues to come from the AoD, I'll let you know when the "family of parishes" will begin for us. There will be two waves, one beginning in July 2021, and the second in July of 2022. There is much work to be done, and the Church in Detroit will definitely be structured differently, but this is what the Archbishop envisions as we face an ever- decreasing number priests for the foreseeable future.
God bless all of you,
Father Duane
Posted on: December 6, 2020
Start of Advent 2020
I noted in my homily on the first week of Advent that it is good to take a look behind us to see where we are going in the future. That simple task is part of our "Advent adventure." As I did that, I reflected upon the memorial of the deceased we displayed in church, the Memorial Mass which I felt was very prayerful, and, especially, the Book of Remembrance in which you inscribed the names of parents, family, relatives, friends, and acquaintances. As the memorial was taken down for this year, I read each name you wrote. By name and inference, I could tell who wrote it. I prayed for each soul in the Book and for the one who remembered their friend or loved one. I was moved by the thoughtfulness you showed in taking the time to "remember." My prayerful reflection was that no matter how young or old, recent or past, when that person died, he or she is still important to you, and you remembered. The Church teaches it is fitting and proper to pray for the dead. The community of faith remembers as we celebrate All Saints Day and All Souls Day, and we remember in our hearts those who were dear to us as we inscribe their names in the Book of Remembrance.
On a more temporal topic, today we have our Gold'n Harvest 50/50 Raffle Drawing. Due to the pandemic, we are not having our annual parish breakfast, and I am very disappointed in that. However, I am hopeful that our live-streamed drawing at noon today will be successful. I could tell parishioners tried very hard to make it a success by selling and buying as many tickets as they could.
Whatever the outcome, I want to say thank you for your efforts. This year has been very difficult and like so many others, we too are struggling financially. But with the grace of God and the cooperation of people we will get through this pandemic and life will return to normal.
Keep praying for a Bright and Happier New Year.
God bless all of you,
Father Duane
Posted on: October 26, 2020
Walk for Homeless
St. Matthew Parish
Was Well Represented
Posted on: September 5, 2020
Fair & Equal Michigan Petition
In 1976, the State of Michigan enacted the Elliott-Larson Civil Rights Act. In effect, the law prohibits discrimination based on a person's religion, race, color, national origin, age, sex, height, weight, and familial or marital status. There's a group now called, Fair and Equal Michigan, who is circulating a state-wide petition to re-define what "sex" in Elliott-Larson means. That is, to expand its meaning beyond gender to "sexual orientation and gender identity or expression" and would reduce the definition of religion to the "religious beliefs of an individual" thus reducing the current understanding under the law.
The Catholic Church teaches that all persons are made in the image of likeness of God and are to be treated with dignity and respect regardless of their orientation or identity (ccc 2358). The Fair and Equal Michigan petition would go well beyond how we treat one another.
The Catholic bishops of Michigan have asked us not to sign the petition because the petition offers no protections for religious institutions, especially schools, charity agencies, and healthcare entities. It would impact athletic programs and community services. Also, to diminish the definition of religion would not allow us to exercise our deeply-held faith beliefs in the public square by providing no protections for faith-based actions or speech.
I share these thoughts from the bishops of Michigan and the Michigan Catholic Conference for your information along with the Q and A insert in the Pulse today, so that you can make an informed decision if someone should approach you with the petition.
Again, the bishops of Michigan urge you not to sign the petition.
God bless all of you, Father Duane!
/files/docs/Michigan_Petition_MCC_Letter.pdf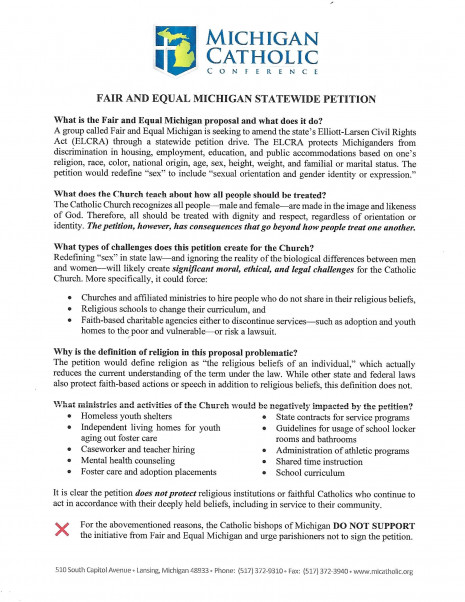 Posted on: August 22, 2020
Mass Attendance - COVID19
As the summer continues to wear on, our country and state is still dealing with the pandemic. We all are feeling a sense of frustration with the way our lives have been altered. As a priest and pastor, I too am saddened that we cannot be the community we once were. I can't help but think of all we worked for as priests to help our communities grow in the understanding of the liturgy in these past decades which now seems to be wiped out overnight; for example, active participation in said and sung responses during the liturgy. Now we can only speak quietly into our masks. Forming ourselves to look like a community by sitting together. Now we have to be distanced from one another. Just when everyone not only enjoyed the Peace Greeting, but looked forward to it, we can only nod to each other from six feet away. Sharing in the common cup of the Blood of Christ ministered by Eucharistic Ministers seems so long ago.
But what is now most disturbing is Mass attendance, keeping holy the Lord's Day, the Third Commandment of the Decalogue. Just when we were building attendance and participation at St. Matthew's, we are down to 30 / 35 participants at each Mass.
I know that people are worried, and I know that we have had a dispensation from the obligation to attend Mass given by our Archbishop to September 6. Now that the dispensation has been extended to November 23, through the Feast of Christ the King, my greatest fear is that people may get used to not attending and will choose not to come back. I ask you, please do not make that mistake. Attendance is important.
Faith is sustained best in the company of others. A faith community is still what we are about. In fact, we are specifically a Eucharistic Community. To distance ourselves from the reception of Communion is a loss to us all. I know that many are viewing the Mass for Shut-ins, or "live-streaming", but it is just not the same. The decision to extend the dispensation into November is a prudent and practical response to the crisis. However, it is dramatic and not to be taken lightly. We still have a responsibility to keep holy the Lord's Day. Some for obvious reasons of underlying conditions; i.e., old age, terminal illness, breathing or mobility issues, may not be able to attend but to all others I do encourage you not to distance yourself too long from the liturgy.

We are safe here. Masks are required, hand sanitizer is available, social distancing is practiced; and we still have plenty of room. I do miss so many of you; but most of all, I'm concerned that with the extension of the dispensation we will not have seen each other or worshiped together for almost a year. This is not good for a Eucharistic Community. I would encourage you to come back as often or as soon as you can.
But no matter what happens, please keep the day holy by refraining from activities that may be more risky than going to church. If you feel well enough to go to a restaurant, visit with friends, or attend small gatherings, you should seriously consider returning to Mass. Above all, keep the day holy by reading spiritual material, praying the Scriptures, or meditate on the mystery of the Lord's life. Pray for a quick end to this pandemic and above all pray for the strength to follow the prescribed recommendations so that the pandemic can be brought under control.
Know that I pray for you in weekday Masses and will continue to do so until we celebrate the Lord's Day again in full community!
God bless all of you,
Father Duane
Mass Schedule
| | |
| --- | --- |
| Sat | 4:30pm |
| Sun | 10:00am |
| Mon | No Mass |
| Tue | 9:00am |
| Wed | 9:00am |
| Thu | No Mass |
| Fri | 9:00am |
All Services