Meet Our Pastor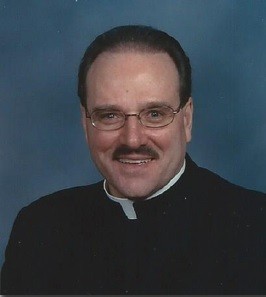 Our beloved pastor and spiritual community leader at St. Matthew Catholic Church is Fr. Duane Novelly.
Father Duane Novelly, ordained on June 3, 1979, served as Associate Pastors at St. Ephrem's, St. Anne's and St. Joan of Arc Catholic Churches before his assignment in 1989 as pastor to St. Matthew's Church on the northeast side of the city of Detroit. Additionally, Father Novelly has served in various capacities for the Archdiocese of Detroit and its vicariates. These include, but are not limited to, as Vicar of both the Serf and Detroit Grosse Pointe Vicariates, participating in the Convocation Program and the Confirmation Policy Committees, and as Chairman of the Health Care Chaplaincy Committee. This broad range of service and assignments is testimony to Father Novelly's ministerial and professional abilities.
Father Novelly possesses an understanding and commitment to ethnic and racial equity and has fostered a spirit at St. Matthew's of embracing diversity and making St. Matthew Parish a revered neighbor in this part of Detroit. His dedication to making every liturgy a singular and memorable experience has helped to grow the parishioners as better persons, better Catholics, and a better community.
As a graduate of Warren Woods High School in 1969, he was inducted into their Alumni Hall of Fame in 1997. He also was a John Farrell Award recipient in 2004 which honored Father with a three-month sabbatical in Rome on the occasion of his 25th anniversary of ordination. Father is enthusiastic about music, and has been a member of the U of M Choral Union as well as the Metropolitan Detroit Chorale. His love of travel has taken him through Europe, England, Israel, Egypt, China, Russia, and the Baltic countries. As an avid sailor, he sails his own boat and has captained vessels while touring the British Virgin Islands and Granada. Father Novelly is an excellent cook, and when time permits loves to entertain his friends.
Father Duane Novelly is held in high esteem by both religious and lay colleagues - and rightly so!
25th Anniversary Celebration
O Jesus, our great High Priest, Hear our humble prayers on behalf of your priest, Father Duane R. Novelly. Give him a deep faith, a bright and firm hope and a burning love which will ever increase in the course of his priestly life.


In his loneliness, comfort him In his sorrows, strengthen him In his frustrations, point out to him that it is through suffering that the soul is purified, and show him that he is needed by the Church, he is needed by souls, he is needed for the work of redemption.

O loving Mother Mary, Mother of Priests, take to your heart your son who is close to you because of his priestly ordination, and because of the power which he has received to carry on the work of Christ in a world which needs him so much.

Be his comfort, be his joy, be his strength, and especially help him to live and to defend the ideals of the ministry to which he has been called.


Amen.
On Sunday, September 21st, 2014, Fr. Duane Novelly was recognized by his parish in honor of his 25th anniversary as Pastor of St. Matthew Church. The parish presented him with a formal Proclamation and a gift of a new hand embroidered chasuble and stole. A video of the presentation is below.
'Sailing in the Silence'
An excerpt from an article in The Michigan Catholic, October 18, 2017.
---
When not at St. Matthew Parish on Detroit's east side, Fr. Duane Novelly likes to be out on Lake St. Clair on his 31-footer.
Fr. Novelly came from a boating family, but didn't get into sailing until a friend's family invited him out on their sailboat in Lake St. Clair.
An avid sailor of 37 years, Fr. Novelly likes to get out on the water at least once every couple weeks, when he's not managing the day-to-day ministry of the parish.
"A friend of mine's dad had a sailboat, another friend had a sailboat, so I learned to sail and I love it," Fr. Novelly said. "I have three Mackinac races under my belt, crewing on other boats. I used to race the circuit on Lake St. Clair in my own boat, Dom Savio, which means 'Our Savior,' and on vacation I've sailed to Tobermory in Canada by the Georgian Bay."
Fr. Novelly also has sailed in Lake Erie and even rented a boat to sail the Virgin Islands in the Caribbean.
"My biggest enjoyment when I go out there is to get in the middle of the water — no engine, no noise; it's just quiet," Fr. Novelly said. "It's just you, the wind and the sea, and the ability to direct or play against the wind. I love sail trimming, setting a course over and against the wind to get the maximum out of the boat."
In addition to the serenity of being on the lake, Fr. Novelly says there are many allegories to being a pastor and a sailor.
"You see the image of the Church as the bark of the boat," Fr. Novelly said. "Being part of it, you go out there and have to prepare for what the Lord gives you. I have a little tag, a brass plate: 'Oh God, thy sea is so great, and my boat is so small.'"
Fr. Novelly said most of his sailing trips are a chance to relax, recharge and get caught up in God's creation. But there are a few times when he had to rely on the Lord's good graces during a sailing adventure.
"Often when you're out there, you're praying for wind or praying for the Lord to calm a storm," Fr. Novelly said. "There was one time I was with my mom, my sister and my brother and we were in a storm on Lake St. Clair. I was out steering the ship, and they were down below, praying the rosary for our safety. So there are times when being a sailor makes you closer the Lord."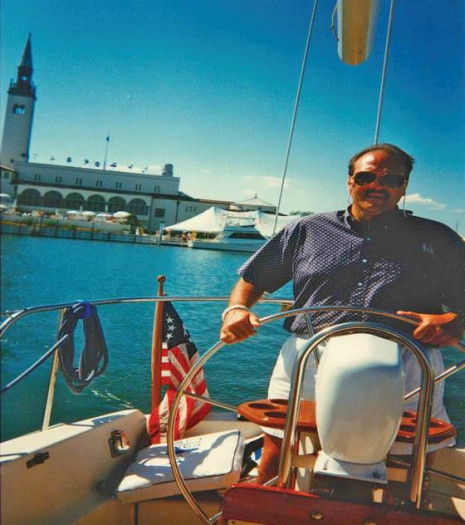 Fr. Duane Novelly, pastor of St. Matthew Parish on Detroit's east side, is pictured at the helm of his vessel, "Dom Savio," which means, "Our Savior." Fr. Novelly is an avid sailor who has captained boats in the Caribbean, Great Lakes and in Canada. Courtesy of Fr. Duane Novelly.
Mass Schedule
| | |
| --- | --- |
| Sun | 10:00am |
| Mon | No Mass |
| Tue | 9:00am |
| Wed | 9:00am |
| Thu | No Mass |
| Fri | 9:00am |
| Sat | 4:30pm |
All Services