Posted on: February 2, 2019
July - December 2018 Budget Report
St. Matthew Parish Report
July 1, 2018 to December 31, 2018

Posted on: December 29, 2018
Christmas Flower Offerings
Christmas Flower Offerings
Donated on Behalf of These Loved Ones

In Memory of:
Orlando Moszczenski
Casmere Moszczenski​
Lucia Matelonek
Antoni Matelonek
Lara Zebrowski Galka
Robert & Paul Matelonek
Denise Matelonek
Meryn Hodges
James E. LaPratt
Jimmy LaPratt
James Brus
Renee LaPratt Jaczkoski
John Camazzola
Rose Godoshian
George Godoshian
Judy Stark
George & Marie Stark
Edward & Agnes Czarnecki
Frank & Cynthia Tegel
Jim & Pat D'Alessandro
Allen Czarnecki
Lorrie Calhoun
Conley & Ethel DeLong
Garnet & William Bogle
Wanda Mort
James C. Walsh
Pantaleon & Ofelia Vivo
Fitzgerald Family
Lee Family
Cayetano Ferreria
Araceli & Gertrude Ferreria
Theresa Zainea
Margaret Stanley
Rita Mielke
Clarence & Mary Merlo
Richard & Shirley Goll
Ponina Stellino
Rose Colombo
Jerry Mallon
Adam Zuerblis
Tony Aiello
Gloria Pocius
Sheila Pocius
Gertrude Rasch
Therese Szalaszwicz
Lorraine Ciak
Gertrude Bonk
Evelyn Zavatosky
Pilette Family
Boismier Family
William Harding
Frank & Mary Dedenbach
William Redman
Michael Rose
Mr. & Mrs. John Beamer, Jr.
Mr. John C. Beamer, III
Master Dionte Beamer
Master Brandon Beamer
Miss Desiree Miller

In Honor of:
Vita Aluia, courtesy of John Strehler
Thanks to all of you who remembered your special loved ones and also to all of you who donated to the Christmas Flower Fund in the amount of $1,203. Your generosity helped to make our altar very beautiful during the Christmas Season.
Posted on: December 8, 2018
2018 Gold'n Harvest Winners!
2018 Gold'n Harvest 50/50 Raffle
Announcing the Winners

The Gold'n Harvest 50/50 Raffle Drawing was held last Sunday, December 2nd; it was a great success with friends and families again putting forth an extra-ordinary effort. The gross proceeds totaled $30,220, not including $1,380 in donations!
The amount of $30,220 was divided: with half in the amount of $15,110 being awarded to the parish, and balance of $15,110 divided among the winners. Three winners were awarded their prizes in accordance with the rules of the State of Michigan Charitable Gaming Commission. We congratulate these lucky winners!
1st Prize: $9,066.00 to Rose Bankhead, Joe Nieddu, seller
2nd Prize: $4,230.80 to Dr. Francis (Frank) Wilson, faithful supporter of St. Matthew Parish
3rd Prize: $1,813.20 to Jo Marie Nardi, sister-in-law of Joan Nardi, parishioner
Sellers' Drawing Winner: $200 to Tina Steinbrecher, friend of the parish
Thanks to the generosity of parish members, friends, and businesses who donated consolation prizes so many others could also be winners.
Thanks also to Co-chair, Bill Zuerblis, and Debbie and Joe Nieddu, for collecting returns and assigning additional tickets at the 10:00 a.m. Mass on Sunday; and Jeff Smith for taking over this task at the 4:30 pm Saturday Mass. Thanks to Joe Nieddu and Dick Goll for manning the breakfast table and handling the hungry crowd. Tim Fitzgerald coordinated with Majestic Café for the breakfast that was provided by them for all to enjoy. Jennifer Khalifah and "her girls" pitched in to help with the beverage service. The church auditorium was transformed into a welcoming space for the event by Tim and Karen Fitzgerald and Beverly Goll. We especially appreciate Tim Duffy who provided the sound system for us again this year as well as the holiday music.
Of course, we cannot forget those of you who bought or sold the 50/50 Gold'n Harvest Raffle tickets. Your efforts truly made this fundraiser our second best success! It was a moment to celebrate!
With gratitude to all,
Co-Chairs, Bill Zuerblis and Marilyn Lynn
Posted on: November 3, 2018
We Remember 2017-2018
November 1, 2017 to November 1, 2018

We thank you, Heavenly Father,
for our relatives and friends
who were so near and dear to us.
We thank you for their friendship
and for the peace that they brought to us.
We thank you that they became people others
could love while they were with us here on earth.

~ We Remember ~
Annette Laige
James Spencer
Robert A. Spansky
Francis Matellic
Elizabeth Reyes
Regina Butler
Joe (Jose) Escorial
Sheila Pocius
Emma Langan
Sebastian P. Maceri
Rose Colombo
Virginia Ciaramitaro
Posted on: October 27, 2018
Priesthood Sunday
We, St. Matthew Parishioners, are grateful to God for the gift of his priest, Father Duane Novelly. We celebrate his priesthood on this day and each day of the year. Ever glad that we have his guidance and affection, that he celebrates the sacraments with us and brings us closer to God, that he prays with us and for us, and that he understands our pain and suffering and offers comfort.
For these things and more,
we thank God for Father Duane!
Posted on: October 20, 2018
Rest in Peace: David Witkop
David T. Witkop
1938 TO 2018

David was a long-time parishioner before moving to Gaylord with his wife, Joanne.
Condolences may be sent to the Family at
3409 Glen Meadows Dr.
Gaylord, MI 49735
Posted on: October 6, 2018
July-September Budget Report
St. Matthew Parish Report

Posted on: September 29, 2018
Welcome New Parishioners: Baumgart Family
Welcome To St. Matthew's Parish Family
Mark Baumgart of St. Clair Shores
We hope you find a spiritual home here
where you can grow in faith and be inspired!
Posted on: September 29, 2018
2017-2018 Fiscal Year Financial Report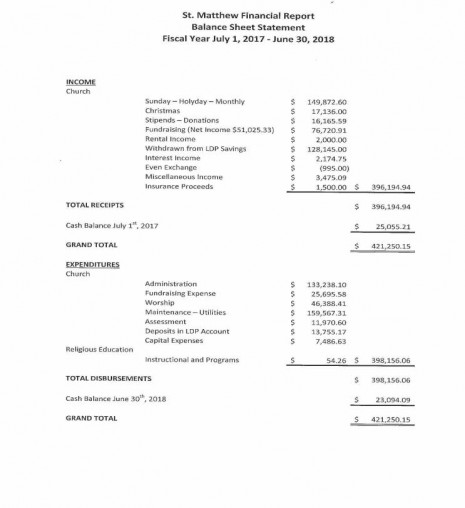 Mass Schedule
| | |
| --- | --- |
| Mon | No Mass |
| Tue | 9:00am |
| Wed | 9:00am |
| Thu | No Mass |
| Fri | 9:00am |
| Sat | 4:30pm |
| Sun | 10:00am |
Reconciliation by Appointment
All Services