Weekly Prayer Intentions

Dear Jesus, Divine Physician and Healer of the sick, we turn to you in this time of illness.
O dearest comforter of the troubled, alleviate our worry and sorrow with your gentle love, and grant us the grace and strength to accept this burden.
Dear God, we place our worries in your hands.
We place our sick under your care and humbly ask
that you restore your servant to health again.
Above all, grant us the grace to acknowledge your will and know that whatever you do, you do for the love of us.
Amen.
Please remember those in our parish and
in our families who are sick or in need of our prayers.
---
Chuck Schuster
Lolita Dorado
Albert Fajardo
Virginia Fajardo
Madeline O'Neill
Kurt Beghuyn
Sebastian Stellino
Teresita Covacha
Joe Petrylka
Roger Sharpe​
Nanette Ferreria
Anthony Mastronardi
Eduardo Fajardo
Kathy Bush
Glenda Johnson
Stephanie Smith
Janet Law
Laura Alix

Betty Leone
Michelle Harter
Jo Marie Nardi
David Beaupre
Kenneth Beaupre
Anthony Crimaudo
Rosemary Schoolcraft​
Tiffany Gelle
Robert Stark
Pauline Williams
Bill Solomon
Eloise Parker
Kelly Kranson
Herb & Jeanne Damman
Doreen Redman
Dennis Corbett
Maximo Fajardo, Jr.
---
2019 Memorial Mass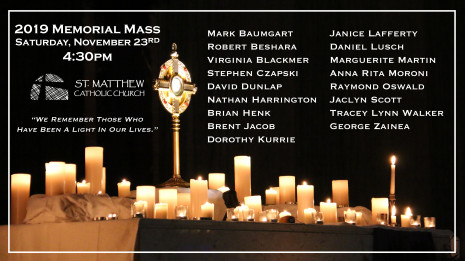 Mass Schedule
| | |
| --- | --- |
| Sat | 4:30pm |
| Sun | 10:00am |
| Mon | No Mass |
| Tue | 9:00am |
| Wed | 9:00am |
| Thu | No Mass |
| Fri | 9:00am |
All Services