Weekly Prayer Intentions

Dear Jesus, Divine Physician and Healer of the sick, we turn to you in this time of illness.
O dearest comforter of the troubled, alleviate our worry and sorrow with your gentle love, and grant us the grace and strength to accept this burden.
Dear God, we place our worries in your hands.
We place our sick under your care and humbly ask
that you restore your servant to health again.
Above all, grant us the grace to acknowledge your will and know that whatever you do, you do for the love of us.
Amen.
Please remember those in our parish and
in our families who are sick or in need of our prayers.
---
Anthony Mastronardi
Stephanie Smith
Janet Law
Laura Alix
Jo Marie Nardi
Anthony Crimaudo
Rosemary Schoolcraft
Tiffany Gelle
Pauline Williams
Herb Damman
Sarah Wagner
Albert Fajardo
Aurora Guinto
Jesse Ocampo
Mary Spansky
Mike Dulapa
Kathy Bush
Kristen Freiburger
Joanne Papineau
Elsa Camazzola

William Walker IV
Nancy Clemons
Robert Rabe
Lynn Simoncini
Joan Nardi
Barbara Foley
Carol Henk
Jim Krause
Michele Stearns
Fatima Dorado
Andrew & Rachel Petrylka
Baby Magdalene Petrylka
Madalina Rastelli
---
2021 Memorial Mass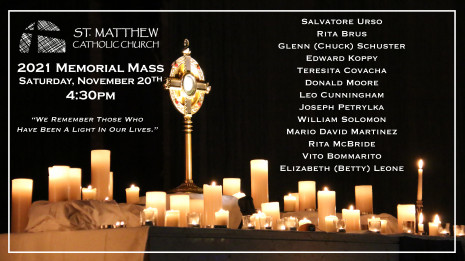 2020 Memorial Mass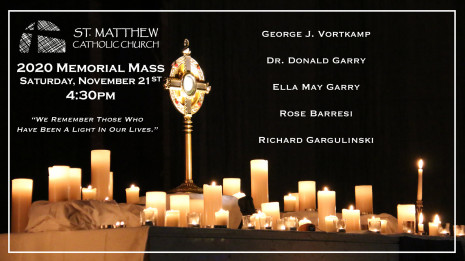 2019 Memorial Mass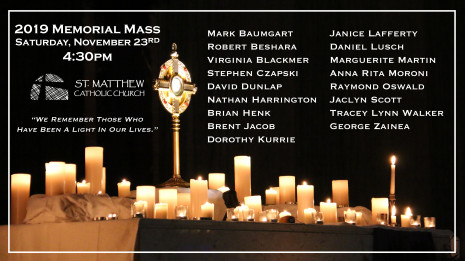 Mass Schedule
| | |
| --- | --- |
| Mon | No Mass |
| Tue | 9:00am |
| Wed | 9:00am |
| Thu | No Mass |
| Fri | 9:00am |
| Sat | 4:30pm |
| Sun | 10:00am |
All Services