Holy Orders
The Sacrament of Holy Orders is the continuation of Christ's priesthood, which He bestowed upon His Apostles; thus, the Catechism of the Catholic Church refers to the Sacrament of Holy Orders as "the Sacrament of Apostolic Ministry."
In the Sacrament of Holy Orders, a man is incorporated into the priesthood of Christ at one of three levels: the episcopate, the priesthood, or the diaconate.
The Sacrament of Holy Orders can be validly conferred only on baptized men, following the example set by Christ and His Apostles, who chose only men as their successors and collaborators. A man cannot demand ordination; the Church has the authority to determine eligibility for the Sacrament.
Seminary Day for Altar Boys
An altar boy serves at the table of the Lord to help the priest better serve the people of God.
This Seminary Day is an opportunity for the Altar Boys in the Archdiocese of Detroit, to learn more about priestly service at the table of the Lord. The day will be spent with seminarians and priests and promises to be informative, inspiring, and plenty of fun!
At Sacred Heart Major Seminary, 2701 Chicago Blvd., Detroit, MI 48206.
For Altar Boys who have completed 7th grade through high school.
Registration deadline is August 9th. Registration fee is $5.00
Click the image below for more details and to register.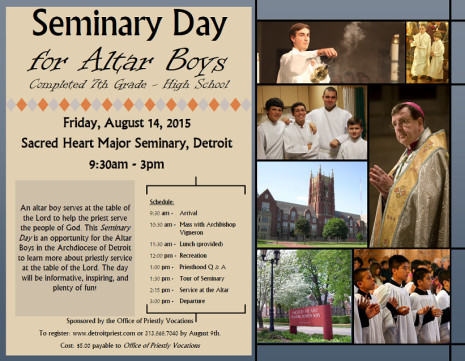 Mass Schedule
| | |
| --- | --- |
| Sat | 4:30pm |
| Sun | 10:00am |
| Mon | No Mass |
| Tue | 9:00am |
| Wed | 9:00am |
| Thu | No Mass |
| Fri | 9:00am |
All Services